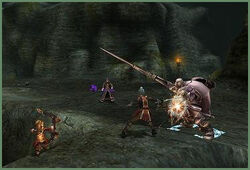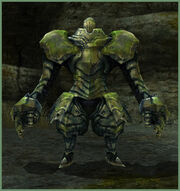 Be at least Level 30
Belong to a nation
Complete the quest The Mysterious Underground Ruins

Talk to Hemlock the Monument Gatekeeper to begin the quest once you have reached Level 30.

Any players that are not in your own party are considered hostile, even if they are from the same nation.
There is no penalty for player death, but you will receive less Honor Points than normal for defeating a hostile player in combat.
Scattered within the ruins are ancient Treasure Chests, watched over by Decaying Guardians. Defeat them to uncover the unique items they protect.
The hours that the Astian Underground Ruins are open can be found here.
You cannot enter the Astian Underground Ruins outside of the times it is open. Furthermore, you will be transported back to your Home Base if you are still in the area when the ruins close.
Entrance
Edit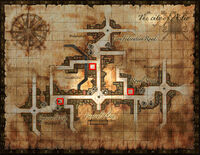 Entrances to the Astian Underground Ruins are located in the neutral city of Astir along Confederation Road, Royal Street, and Imperial Way.
You can use any of these entrances, regardless of national origin.
You do not have to be in a party to enter the ruins.
You cannot join or create parties while in the ruins.
If someone leaves a party while in the ruins, they will be considered hostile.
Non-allied players cannot view each other's Area or Shout chat. Realm chat is also disabled.
You will receive system notifications for defeating hostile players in the ruins.
Ad blocker interference detected!
Wikia is a free-to-use site that makes money from advertising. We have a modified experience for viewers using ad blockers

Wikia is not accessible if you've made further modifications. Remove the custom ad blocker rule(s) and the page will load as expected.